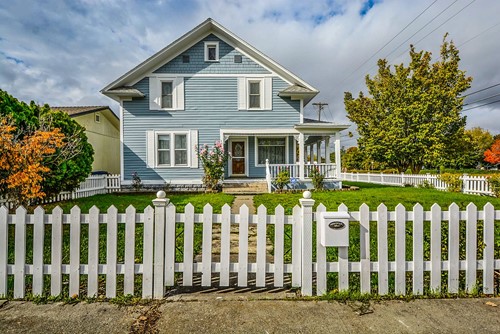 Adding a fence to your front yard can completely transform the look of your home. Regardless of what size yard you might have, fencing makes a statement as well as provides functionality. So what type of front yard fence is best for your home? Here we'll go over some of the most popular options and how they can increase your curb appeal.
Picket Fence
While the idea of the "white picket fence" might sound like a cliche, picket fences are extremely versatile and can easily fit more modern and unique homes. Picket fencing is low, only standing about 3 feet tall, which allows for excellent visibility of the yard and home facade while still providing an enclosure. Picket fencing is typically made of wood but is also available in vinyl in a wide variety of colors and finishes.
One of the significant advantages of a picket fence is that since it's low, it's more likely to be within the rules and codes set by HOAs or other municipalities. Because of the myriad aesthetic options available, you can create a unique look for your home while still keeping the area enclosed—especially helpful for homeowners with dogs or young children. Planting decorative shrubs or flowers in front of a picket fence will soften the look or you can easily encourage climbing plants to attach their vines to the fence.
Wrought-Iron Fence
The wrought-iron fence is a more formal but classic style of fence. While still referred to as "wrought iron," modern fences in this style are usually made from aluminum with a black powdered coating. While black is the traditional color they come in many colors and are easy to paint if you want to change the look. Wrought iron fences are tall, but transparent: you can see clearly through the bars to the front of the home and vice versa. This keeps the fence from looking too severe and closed-off while giving the yard a traditional, formal look.
Wrought iron fences have the advantage of transparency while still keeping the yard safely enclosed. However, depending on the size of the gaps between the bars, there may be enough room for pets or other outdoor creatures to get in and out—something to consider if you have a garden to protect.
Privacy Fence
Privacy fencing is a broad term including any kind of fence you can't see through. Most contemporary suburban fencing falls into this category, either made of wood planks or stone. There are a ton of options with style with this type of fence and it can help you enjoy your front yard as a private outdoor space while still increasing your curb appeal. One popular trend is to have a decorative section at the top of the fence either in a carved pattern or trellis design. This adds visual interest and a bit of transparency while still keeping it private.
The key thing to consider with privacy fencing is building codes. Most homeowners associations and even local municipalities have rules about how high you can build your fence, so you will need to keep those measurements in mind when planning your front yard design. It also closes off much of the front of the home. While this adds privacy and mystique, it will hide any of the beautiful landscaping or architecture you might wish to showcase.
These are just the three most popular types of fencing you can use in your front yard. When choosing the right fence, consider things like HOA restrictions, your personal usage needs and aesthetic qualities. Making the right choice can upgrade your curb appeal and provide you other benefits.