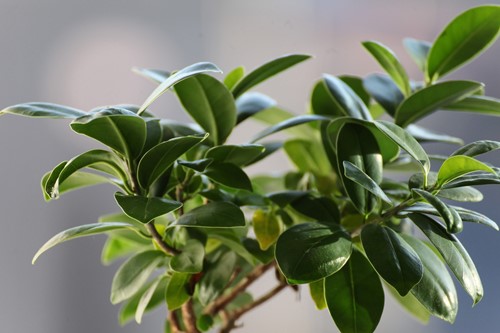 Houseplants can add color and natural beauty to our living spaces, but can also improve our health. By converting carbon dioxide into oxygen, plants provide us with fresh air to breathe purely by living alongside us. Some plants can even filter harmful chemical compounds and pollutants from the air. Here we will go over some of the best houseplants for cleaning up the air in your home.
Snake Plant
Snake plants are considered some of the best air-purifiers among houseplants. One reason is that snake plants continue producing oxygen at night while other plants have gone to "sleep." This makes them particularly great plants for the bedroom, as they will provide fresh air for you while you rest. Snake plants can stay in small pots or grow very tall if allowed to expand and they are easy to propagate if you ever want more.
Pothos
Pothos are popular houseplants for many reasons but have the key benefit of air purifying power. This elegant vined plant has heart-shaped leaves and comes in a variety of color varieties, all of which are extremely efficient in removing household toxins. You can grow pothos in hanging baskets, pots or in water. They are very beginner-friendly houseplants and will adapt to just about any lighting conditions.
Peace Lily
Peace lilies are lush and impressive looking plants even when not in bloom. They are low-maintenance and can survive well in low-light environments. Their glossy green leaves look great in any room but will also help filter chemical pollutants such as formaldehyde and carbon monoxide. When spring comes around, you'll have elegant white flowers to add to the list of this plant's benefits.
Rubber Plant
Rubber plants are a type of ficus plant with broad leaves. They most commonly come in dark green and burgundy but also exist in lighter colored varieties. You can grow them in small pots or encourage them to grow into full indoor trees up to 8 feet tall. Their large leaves are great for absorbing and breaking down airborne toxins as well as eliminating bacteria and mold spores in the air. This hard-working plant won't make you work hard, either—it is an adaptable and low-maintenance houseplant perfect for beginners and experts alike.
Areca Palm
Areca palms will add a tropical feel to any room while also freshening up the air. Not only will the long, elegant fronds and fanned leaves convert carbon dioxide into oxygen, but they will also help purify the air through photosynthesis. Chemicals commonly found in household products like formaldehyde, xylene and toluene are no match for this air-cleansing powerhouse. As a bonus, it's completely non-toxic to pets.
Like all plants, the suggestions above are all biologically built to recycle carbon dioxide into oxygen. Living among plants is a great example of a mutually beneficial relationship. However, if you're concerned about volatile organic compounds (VOCs) or other common air pollutants, these are the best choices for houseplants to clean up your living space. You'll find you breathe easier and live better all with no need for an expensive air purifier.