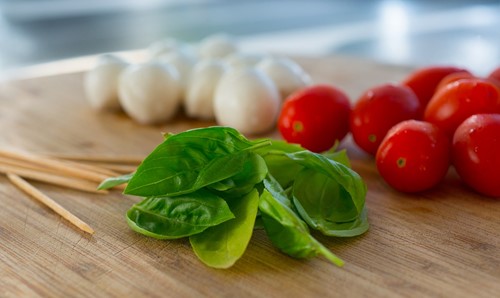 Even in a group full of veggie-lovers, a big bowl of salad is not a convenient party snack. Luckily, most popular salad recipes can be turned into handheld party appetizers. Here are some ideas and recipes for making fresh and tasty salad skewers for your next get-together:
Caprese Salad Skewers
Caprese salad is a party favorite you can serve in a variety of ways. One extremely convenient way is to combine the ingredients on skewers or toothpicks. All you need are cherry tomatoes, mozzarella balls, fresh basil and a bit of balsamic vinegar. Carefully add the tomatoes and mozzarella onto your choice of skewer with basil leaves in between. You may need to chop the basil leaves in half to make them the right size. Once everything is on the skewer, drizzle some balsamic vinegar on top and add some black pepper. Now you have a beloved salad on a stick that's perfect for a party.
Greek Salad Skewers
Greek salad makes another excellent appetizer and party snack when skewered. Combine feta cheese, Kalamata olives, English cucumber and cherry or grape tomatoes onto a skewer. It's easiest to use block feta instead of pre-crumbled feta, as you have more control over the size of the clump for each skewer. Once you arrange the ingredients together, drizzle some olive oil over the top. Add salt and fresh black pepper to taste and you have a classy, delicious and convenient party snack packed with flavor.
Wedge Salad Skewers
Normally, a wedge salad is difficult to share. However, by combining the ingredients in small amounts onto skewers, you can make enough for an entire gathering to enjoy. All you'll need is to chop a head of iceberg lettuce into small chunks. Combine onto the skewers with hearty chunks of cooked bacon, red onion, avocados and cherry tomatoes. Usually wedge salad is served with either ranch of blue cheese dressing, so you can add a small amount before serving. Alternatively, you can provide both choices so guests can pick the one they prefer. Regardless, you'll be able to share this crunchy and satisfying salad with the entire group.
Salads are perfect for any occasion and are often a welcome addition to heavier party foods. Try creating shareable skewers of these salad recipes or your own personal favorites for your next party or gathering.