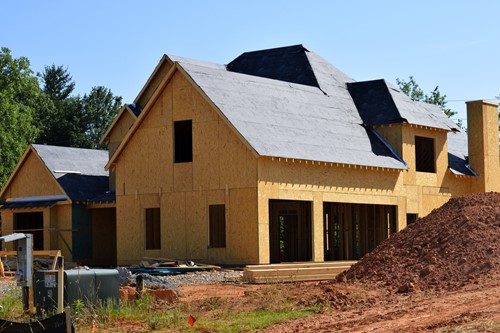 Flat roofs are common on large industrial or commercial buildings. Thanks largely to modern design movements, flat roofs are a popular choice for residential buildings as well. There are several other advantages as well besides the aesthetic appeal. However, a flat roof might not be the right choice for every home design. Here we'll go over what to consider when trying to decide between a flat or pitched roof for your home.
Cost - Now & Later
Your choice of roof style will make a big difference to your overall home building budget. Flat roofs have a low upfront cost and are relatively quick to install. There is less surface area to cover and therefore less raw material to pay for. Labor costs are low for installing flat roofs both because of the ease of the process and how quickly they can be completed. Overall, of the two choices, a flat roof is the cheapest and quickest.
However, pitched roofs last longer and require less maintenance in the future. A flat roof will usually only last around 10 years compared to 20 or 30 for a pitched roof. This comes down to the materials used as well as wear and tear from weather. Flat roofs are notorious for leaks, which means you might pay for repairs in times of heavy moisture. Flat roofs might be easier to inspect and access (because they're easy to walk on) but definitely consider the potential cost of repeated visits for leak repair and other damage.
Climate
A major factor in whether a flat roof is the right choice is your climate. Depending on where you're building your home, a flat roof might be more trouble than you're expecting. Areas with heavy snowfall and rain year-round are far tougher on flat roofs than pitched roofs. The sloped angle of a pitched roof allows snow and water to wash down and away rather than let the moisture and weight collect. A flat roof will accumulate all of that weight and water, potentially leading to drainage issues.
However, in hot and dry climates flat roofs can have their advantages. Desert homeowners often prefer flat roofs because it's easier and more affordable to add solar paneling compared to pitched roofs. Flat metal roofs can also reflect light and heat up and away from the house efficiently.
Aesthetic
The modern aesthetic of a flat roof is undeniably its major draw. Made famous by the iconic mid-century modern homes in Southern California and elsewhere in the United States, a flat roof adds that streamlined and minimalist look many homeowners love. A sprawling single story home with a flat roof and window walls to let in the beauty of nature might be the guiding vision for many people designing a dream home. Pitched roofs are certainly not without their charm and aesthetic appeal, but some homeowners will call them "dated."
Cost and climate are important to consider for practicality's sake, but in the end the choice between a flat or pitched roof comes down to your preference. If you need help with the decision, it's always a good idea to consult a professional home builder to go over any other factors you might not be aware of.